Engraved Hangers for Bridesmaids: Personalized Keepsakes for Your Wedding Party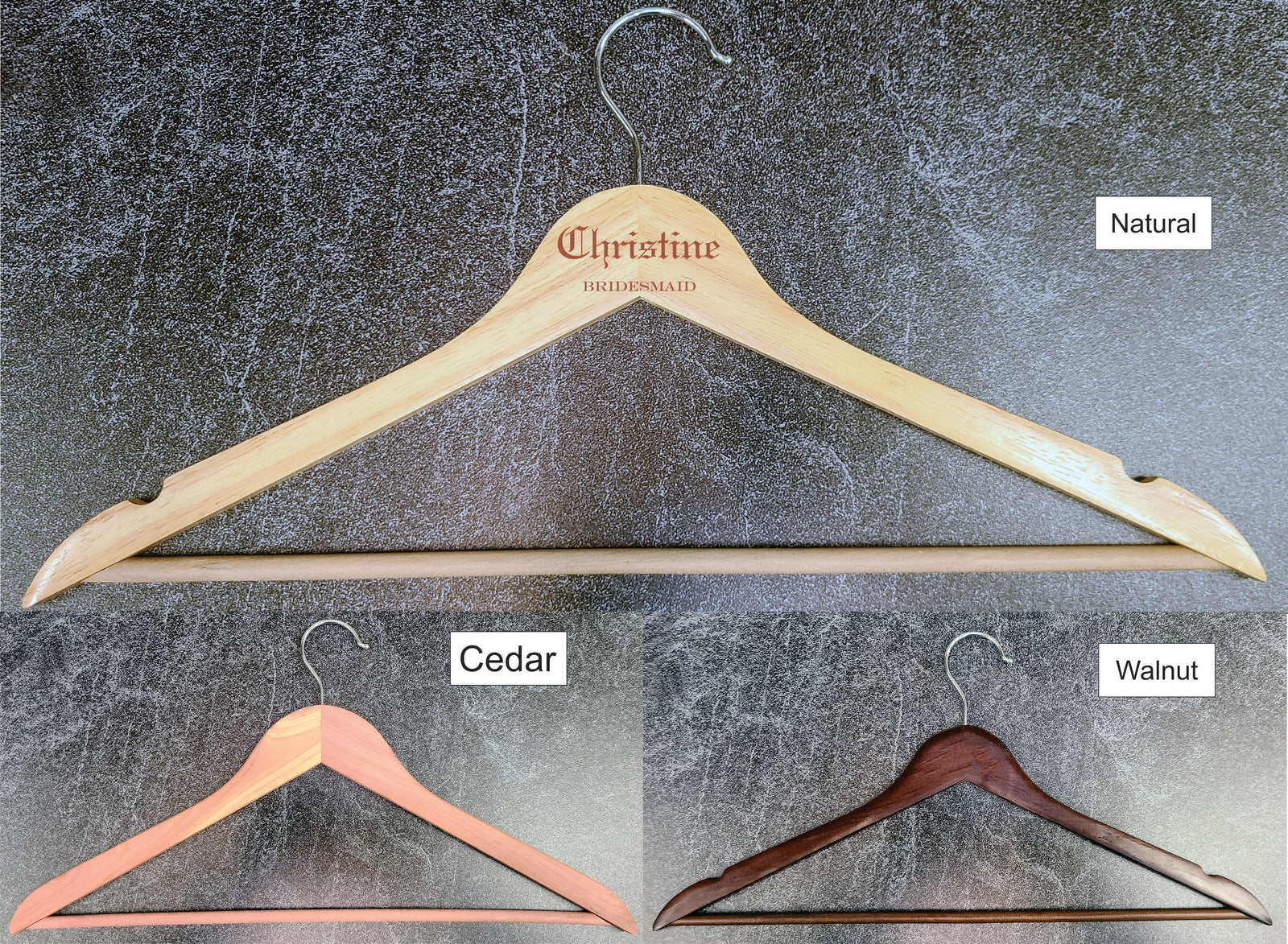 1. Introduction
Your wedding day is a celebration of love, joy, and the cherished relationships in your life. Among the most important individuals in this celebration are your bridesmaids, who stand by your side, offering support and friendship as you embark on this new chapter. To show your appreciation and make them feel special, consider gifting your bridesmaids personalized engraved hangers. These custom hangers not only add a touch of elegance to your wedding attire but also become cherished keepsakes that your bridesmaids will treasure for years to come.
2. The Role of Bridesmaids in Weddings
Bridesmaids play a significant role in weddings. They are chosen by the bride to be her closest friends, sisters, or relatives who offer emotional support, assist with wedding preparations, and participate in pre-wedding events. On the wedding day, bridesmaids stand alongside the bride, making the celebration even more meaningful and memorable.
3. Why Choose Engraved Hangers for Bridesmaids?
Engraved hangers serve as thoughtful and practical gifts for bridesmaids. They add a personal touch to the wedding preparation process and serve as unique keepsakes after the event. These custom hangers not only help display bridesmaids' dresses beautifully but also make for stunning photo opportunities during the getting-ready moments.
4. Finding the Perfect Engraved Hangers
4.1 Personalized Names or Initials
One of the most popular choices for engraved hangers is to have the bridesmaids' names or initials elegantly engraved. This simple yet classic option ensures that each hanger is unique to each bridesmaid.
4.2 Special Messages or Quotes
Incorporate heartfelt messages, quotes, or phrases that hold special significance to the bridesmaid, the bride, or the friendship they share.
4.3 Elegant Font Styles
Choose from a variety of font styles to match the wedding theme and reflect the bridesmaids' personalities and the overall aesthetic.
4.4 Variety of Materials and Colors
Engraved hangers come in various materials, such as wood, metal, or acrylic, offering different textures and colors to suit the wedding's theme.
4.5 Matching Bride and Bridesmaids Hangers
Consider having a matching set of engraved hangers for both the bride and the bridesmaids to create a cohesive and visually appealing display.
5. Adding a Personal Touch to Your Wedding
5.1 Bridesmaids' Names or Nicknames
Engrave the bridesmaids' full names or nicknames on the hangers for a personalized touch.
5.2 Wedding Date and Venue
Include the wedding date and venue to commemorate the special day and location.
5.3 Custom Symbols or Icons
Incorporate custom symbols or icons, such as hearts, flowers, or stars, to represent the bond between the bride and her bridesmaids.
5.4 Role or Title Engravings
Add titles like "Bridesmaid," "Maid of Honor," or "Best Friend" to signify their roles in the wedding party.
5.5 Inside Jokes or Shared Memories
Include inside jokes or shared memories to make the hangers more personal and meaningful.
6. Presentation and Gifting of Engraved Hangers
6.1 Bridal Party Reveal
Present the engraved hangers during the bridal party reveal, creating an emotional and heartwarming moment.
6.2 Getting Ready Photoshoot
Capture the excitement and joy of getting ready with your bridesmaids by including the engraved hangers in the photoshoot.
6.3 Pre-Wedding Gifts
Give the engraved hangers as pre-wedding gifts during a special gathering or rehearsal dinner.
6.4 Post-Wedding Keepsakes
The engraved hangers will serve as cherished keepsakes and reminders of the wonderful wedding day.
6.5 Thank-You Gifts
Show gratitude to your bridesmaids for their love and support with these thoughtful thank-you gifts.
7. DIY Engraved Hangers: A Personalized Project
7.1 Materials Needed
Gather the necessary materials, including wooden hangers, engraving tool or paint, ribbon or twine, and decorative elements.
7.2 Step-by-Step Guide
Follow a step-by-step guide to engrave or paint the hangers with the desired design and personalization.
7.3 Tips and Tricks
Learn helpful tips and tricks for creating flawless and beautifully engraved hangers.
7.4 Safety Precautions
Adhere to safety precautions while working with engraving tools or paints.
7.5 Showcasing Your DIY Hangers
Display the DIY engraved hangers with pride, knowing you put love and effort into creating them.
8. Engraved Hangers: Beyond Bridesmaids
8.1 Mother of the Bride and Groom Hangers
Engraved hangers make thoughtful gifts for the mothers of the bride and groom, acknowledging their significant roles in the wedding.
8.2 Flower Girl and Junior Bridesmaid Hangers
Include the flower girl and junior bridesmaids in the personalized hanger gifting, making them feel just as special.
8.3 Maid of Honor and Matron of Honor Hangers
Celebrate the maid of honor and matron of honor with custom hangers, symbolizing their pivotal roles.
8.4 Personalized Hangers for Groomsmen
Extend the personalization to the groomsmen, offering them custom hangers with their names or titles.
8.5 Anniversary and Special Occasion Hangers
Engraved hangers can also serve as thoughtful gifts for anniversaries or other special occasions.
9. Conclusion
Engraved hangers for bridesmaids bring a personal touch to your wedding, celebrating the bond between the bride and her closest friends and family. These thoughtful and elegant keepsakes add a unique and sentimental element to the wedding preparation and serve as cherished mementos for years to come.
10. FAQs About Engraved Hangers for Bridesmaids
1. Can I choose different designs for each bridesmaid's hanger?
Yes, you can customize each hanger with different designs, names, or messages based on each bridesmaid's preferences.
2. Are engraved hangers suitable for other members of the bridal party?
Absolutely! Engraved hangers can be personalized for mothers, flower girls, junior bridesmaids, and other members of the bridal party.
3. What materials are engraved hangers typically made of?
Engraved hangers are often made of wood, metal, or acrylic, offering durability and versatility.
4. Can I create DIY engraved hangers for my bridesmaids?
Yes, DIY engraved hangers are a wonderful and personal project that allows you to add your creative touch.
5. When should I present the engraved hangers to my bridesmaids?
You can present the engraved hangers during the bridal party reveal, the rehearsal dinner, or as pre-wedding gifts during a special gathering.
You can order Engraved Hangers for Bridesmaids here.
---