Personalized Beer Mugs: Raise a Toast to Uniqueness and Sentimentality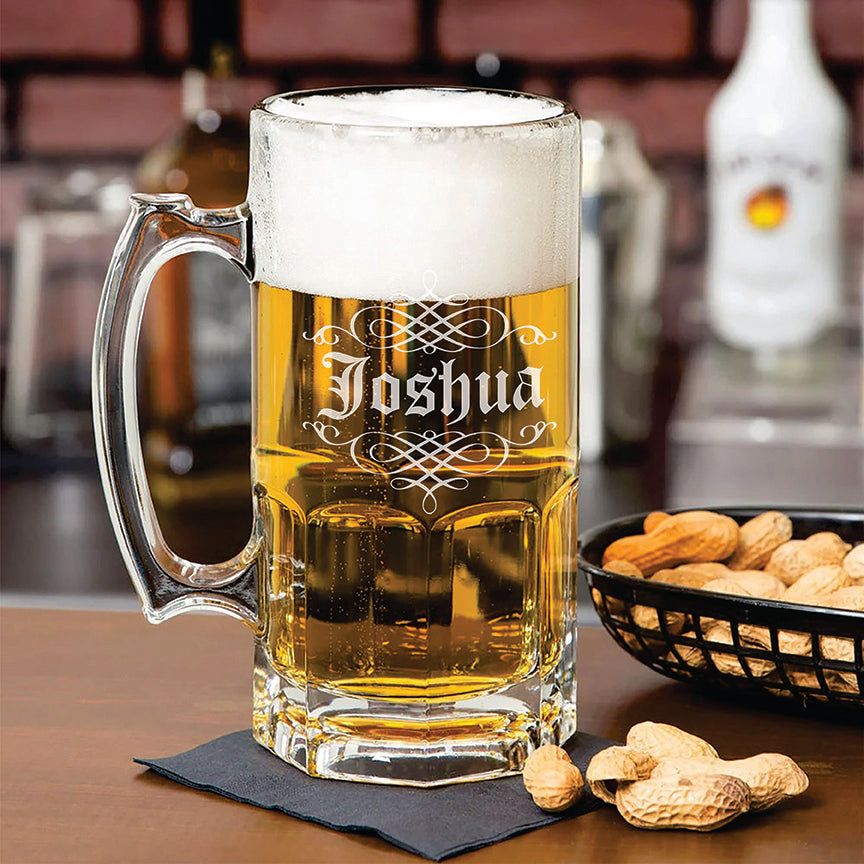 1. Introduction
Beer has been a beloved beverage for centuries, bringing people together to celebrate, unwind, and enjoy camaraderie. Elevating this experience further is the trend of personalized beer mugs, where each mug is a unique reflection of the individual it belongs to. Personalization adds a touch of sentimentality, making every beer-drinking moment memorable and special. In this article, we will explore the art of personalizing beer mugs, the reasons to choose them, and the wide array of possibilities they offer.
2. The Art of Personalization
Personalization is an art that transforms ordinary items into meaningful and cherished possessions. By adding custom engravings, names, initials, or messages to beer mugs, these functional vessels become treasured keepsakes. Whether it's a gift for a loved one or a treat for oneself, personalized beer mugs offer a sense of identity and ownership, enhancing the drinking experience.
3. Why Choose Personalized Beer Mugs?
Personalized beer mugs go beyond mere functionality; they carry sentimental value and make a lasting impression. Here's why you should consider choosing them:
Meaningful Gifts: Personalized beer mugs make thoughtful and heartfelt gifts for friends, family, and colleagues, showcasing the effort put into choosing something unique.

Distinctive Identity: Each mug is one of a kind, representing the individual's taste, personality, and interests.

Memorable Moments: Personalized engravings capture special dates, occasions, or inside jokes, commemorating memorable moments.

Great for Groups: For events and celebrations, personalized beer mugs make excellent keepsakes for attendees.

Promotional Items: Customized beer mugs can also serve as promotional merchandise for businesses and organizations.
4. Finding the Perfect Personalized Beer Mug
4.1 Customizable Designs and Styles
Choose beer mugs that come in a variety of designs and styles, ensuring they suit the recipient's preferences.
4.2 Engraving Options and Techniques
Explore different engraving options, such as laser engraving or etching, for precise and durable personalization.
4.3 Quality and Durability
Ensure the beer mugs are of high-quality material, resistant to chipping and fading, ensuring they last for years to come.
4.4 Consider the Occasion
Select engravings that match the occasion, whether it's a birthday, wedding, or corporate event.
4.5 Combining Personalization with Creativity
Incorporate creativity in the personalization, using witty quotes, artistic designs, or customized images.
5. Popular Personalization Ideas
5.1 Name or Initials Engravings
Simple and classic, engraving the recipient's name or initials adds a personal touch to the beer mug.
5.2 Special Dates and Occasions
Commemorate significant dates, such as birthdays, anniversaries, or achievements, on the beer mug.
5.3 Personalized Quotes or Messages
Engrave meaningful quotes, inside jokes, or heartfelt messages that resonate with the recipient.
5.4 Custom Images or Logos
Add custom images or logos, representing hobbies, interests, or favorite sports teams.
5.5 Personalized Sets for Gifting
Create a set of personalized beer mugs for gifting, making it a complete and thoughtful package.
6. Personalized Beer Mugs for Special Occasions
6.1 Weddings and Anniversaries
Personalized beer mugs make charming wedding favors or gifts for anniversaries, adding a touch of romance to the occasion.
6.2 Birthdays and Milestones
Celebrate birthdays and milestones with custom beer mugs that capture the essence of the celebrant.
6.3 Bachelor and Bachelorette Parties
For unforgettable bachelor and bachelorette parties, personalized beer mugs serve as cherished mementos.
6.4 Corporate Events and Gifts
Impress clients and employees with personalized beer mugs during corporate events or as thoughtful gifts.
6.5 Holiday Celebrations
Make holiday celebrations extra special with beer mugs engraved with festive designs and greetings.
7. Personalized Beer Mugs: A Unique Gift
7.1 Thoughtful and Meaningful
Personalized beer mugs showcase thoughtfulness and consideration, making them meaningful gifts.
7.2 Suitable for All Ages
From young adults to seniors, personalized beer mugs are suitable for beer enthusiasts of all ages.
7.3 Ideal for Beer Enthusiasts
Beer enthusiasts appreciate the personalized touch, elevating their beer-drinking experience.
7.4 Perfect for Home Bars and Man Caves
Personalized beer mugs are excellent additions to home bars and man caves, enhancing the ambiance.
7.5 A Keepsake for Years to Come
As keepsakes, personalized beer mugs hold sentimental value, reminding recipients of cherished memories.
8. Personalization Etiquette and Tips
8.1 Choosing the Right Font and Style
Select fonts and styles that align with the recipient's taste and the occasion.
8.2 Double-Check Spelling and Dates
Ensure accuracy in spellings and dates before finalizing the engraving.
8.3 Incorporating Humor and Wit
Add humor and wit in engravings to bring smiles to the recipients' faces.
8.4 Balancing Personalization with Aesthetics
Maintain an aesthetic balance between personalization and overall mug design.
8.5 Supporting Local Artists and Artisans
Consider purchasing personalized beer mugs from local artists and artisans to support their craftsmanship.
9. Conclusion
Personalized beer mugs offer a creative and sentimental way to enjoy beer and celebrate special moments. Their unique engravings and custom designs make them stand out, transforming ordinary beer mugs into cherished keepsakes. Whether it's for a loved one's birthday, a wedding favor, or a corporate event, personalized beer mugs raise a toast to uniqueness and sentimentality.
10. FAQs About Personalized Beer Mugs
1. Can I create a personalized beer mug for someone who doesn't drink beer?
Absolutely! Personalized beer mugs can be used for various beverages or even as decorative pieces.
2. How do I care for personalized beer mugs to maintain their engravings?
Hand-wash personalized beer mugs gently with mild soap and avoid abrasive scrubbing to preserve the engravings.
3. Can I add a custom logo to the beer mug for my business promotion?
Yes, custom logos can be engraved on the beer mugs for promotional purposes.
4. Are personalized beer mugs suitable for outdoor events?
Personalized beer mugs made of durable materials are ideal for outdoor gatherings.
5. Can I get a personalized beer mug with a funny quote for my friend's birthday?
Absolutely! Personalized beer mugs with humorous quotes make excellent birthday gifts and evoke laughter.
Our personalized beer mugs are here.
---